Selecting a course
We are offering four 447 options in Winter 2023/2024. Each of the 4 seminars will cover different topics. Details about topics will be released in June.
These 447 courses are classified under 447C-001 (term 1) and 447D-002 (term 2), with two seminars for each term (447C-SM1, 447C-SM2 OR 447D-SM1, 447D-SM2).
In order to register for a 447 class, please first select your term (447C-001 or 447D-002) and then choose which corresponding seminar (SM1 or SM2) you would like to take. You must enroll in both a section (A/B) AND a seminar section (1/2).
For example, a student could choose to enroll in 447C-001 and 447C-SM1. This is similar to the process of selecting a course section and then choosing a corresponding tutorial.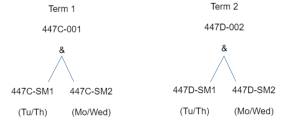 Current course offerings
Discover the current LING 447 courses offered by the Department of Linguistics for the 2022W academic year.
Term 1
Sounds as Social Instruments
Course #: LING 447C-SM1
Days/times: Tues/Thurs 2:00-3:30PM
Instructor: Amanda Cardoso
Prerequisites: LING 313
Description: Language is a tool that shapes and is shaped by technology, media, politics and power relations in society. This course focuses on sounds in particular (i.e., phonetics and phonology) and their use as a social instrument from a cross-linguistic perspective. However, the content overlaps with that in LING440 Language as a Social Instrument, which was taught in previous years.
How to register for this course:
First, register for LING 447C 001 (Lecture)
Next, register for LING 447C SM1 (Seminar)
Term 2
How Bodies Talk
Course #: LING 447D-SM2
Days/times: Mon/Wed 2:00-3:30PM
Instructor: Bryan Gick
Prerequisites: LING 314
Description: Every speech sound results directly from body movement. However, theories of spoken – and signed – language have not always been grounded in biologically plausible theories of how bodies move. Realistic, high-dimensional models of the body may offer valuable insights into speech, but introduce problems of computational tractability. In this course, we will explore some of the phonetic insights that can be gained through viewing language through an embodied lens, adopting a more biologically motivated framework to enable low-dimensional control of high-dimensional body structures. In addition to providing natural dependencies between speech perception, processing and production, this framework introduces implications for many aspects of speech sound and sign production, from phonetic universals and the emergence of speech movements in babies to coarticulation and sound change.
Students will be involved in a collaborative research project related to the topics of the course.
How to register for this course:
First, register for LING 447D 002 (Lecture)
Next, register for LING 447D SM2 (Seminar)