Selecting a course
We are offering four 447 options in Winter 2022/2023. Each of the 4 seminars will cover different topics. Details about topics will be released in June.
These 447 courses are classified under 447A-001 (term 1) and 447B-002 (term 2), with two seminars for each term (447A-SM1, 447A-SM2 OR 447B-SM1, 447B-SM2).
In order to register for a 447 class, please first select your term (447A-001 or 447B-002) and then choose which corresponding seminar (SM1 or SM2) you would like to take. You must enroll in both a section (A/B) AND a seminar section (1/2).
For example, a student could choose to enroll in 447A-001 and 447A-SM1. This is similar to the process of selecting a course section and then choosing a corresponding tutorial.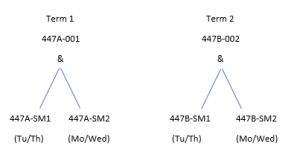 Current course offerings
Discover the current LING 447 courses offered by the Department of Linguistics for the 2022W academic year.
Term 1
Languages in Contact
Course #: LING 447A-SM1
Days/times: Tues/Thurs 2:00-3:30PM
Instructor: Rose-Marie Déchaine
Prerequisites: LING 300, 311, 313, 314, 327
Recommended: LING 345, 405
Description: This seminar will explore what happens when speakers of different languages come into contact, and the different ways that they can influence each other. We'll start by reviewing the (vast and prolific) language contact research literature. To focus the discussion, we'll examine case studies that illustrate the correlates of language contact relative to phonetics, phonology, morphology, syntax, semantics, pragmatics, and multi-modality (e.g. speech-gesture integration in contact contexts, sign languages in contact).
Seminar participants — working solo or in a research group — will conduct original research on a topic and on languages of their choice. ( At least two speech communities in contact must be examine; but note that some contact situations involve more that two speech communities.)
The only restrictions on the research topics — whether they be solo or groups projects —are that:
(i) the research project must in some way bear on speech communities in contact;
(ii) the datasets must be primary (i.e. it must be data that you've collected yourself)
Upon completion of the languages in contact seminar, participants will have an informed understanding of current debates in language contact research, and first-hand experience conducting research in this area.
How to register for this course:
First, register for LING 447A 001 (Lecture)
Next, register for LING 447A SM1 (Seminar)

Phonetics and Phonology of Signed Languages
Course #: LING 447A-SM2
Days/times: Mon/Wed 2:00-3:30PM
Instructor: Kathleen Hall
Prerequisites: LING 200 and LING 311.
Please contact the instructor (kathleen.hall@ubc.ca) as soon as possible if you have not satisfied these prerequisites to discuss your situation.
Description: In this course, we will explore how phonetics and phonology are studied in relation to sign languages. Sign languages of course involve a different modality than spoken languages — they are visual / gestural rather than auditory / vocal. While this means that we can't literally study the "sounds" of such languages, we can still study the smallest non-meaningful units that form their structure, and that is the sense in which we can study their phonetics and phonology. For example, instead of talking about the place, manner, and voicing of consonant sounds, we might talk about the location, movement, and handshape involved in producing a sign. And as it turns out, many of the phonological processes common in spoken languages also show up in sign languages, such as assimilation, neutralization, reduction, deletion, or metathesis. Such observations give us insight into which characteristics of languages are universal and which are modality- or language-specific.
We will examine the ways in which linguists describe and analyze these components of sign languages, reading both general overview articles and more narrowly focused research papers. We will compare different theoretical approaches to particular issues and discuss their relative merits. Students will be involved in an original research project in relation to the topics covered in the course.
No prior knowledge of any sign language is assumed.
How to register for this course:
First, register for LING 447A 001 (Lecture)
Next, register for LING 447A SM2 (Seminar)

Term 2
Crosslinguistic semantics
Course #: LING 447B-SM1
Days/times: Tues/Thurs 2:00-3:30PM
Instructor: Ryan Bochnak
Prerequisites: LING 327
Description: Languages vary widely in their form, but does this variation in form correspond to variation in meaning? Can all sentences of one language be adequately translated into another? Does a language without tense marking differ in expressive power compared to a language with obligatory tense? Are there any linguistic universals in the realm of meaning? In this course, we address these questions by examining case studies from a variety of languages and language families on several aspects of meaning, such as tense, modality, and comparison. A running theme in the course will be the considerations of what kinds of methods and evidence can be used to uncover universals and variation across languages.
How to register for this course:
First, register for LING 447B 001 (Lecture)
Next, register for LING 447B SM1 (Seminar)
The phonetics of multilingualism
Course #: LING 447B-SM2
Days/times: Mon/Wed 2:00-3:30PM
Instructor: Molly Babel
Prerequisites: LING 313
Description: We are all familiar with late learners of a language (typically) having a perceivable accent, but if you learn a language early, does that "protect" your language from phonetic influence of another language? How does knowing multiple languages affect your perceptual categories? Does the timing of when you learn those languages affect perception and production in the same way? In this course, we explore these questions as we consider the empirical and theoretical landscape of crosslinguistic phonetic influence.
How to register for this course:
First, register for LING 447B 001 (Lecture)
Next, register for LING 447B SM2 (Seminar)